Justice at Sea is a sketch, probably in pencil, by English Artist Edward Spratt.
Subject
The sketch shows the execution of Formosan passenger Hok-Seng Lau, a guard to the Formosan Royals It-Beng Sia and Bun-Lan Lim. The condemned man is seen hanging blindfolded from a mast with a firing line made up of four seamen (Henry Brennan, John Naples, Patrick O'Hagan and Aleksei Toporov) preparing to fire on him at the command of gunner Christian Wolff. Most of the crew, especially the officers, are present to witness the execution. The sketch is signed with the artist's initials in the lower left corner.
Depicted
35 people are depicted within the artwork, but only 31 can be highlighted. Working clockwise, and excluding those depicted in other artwork:
History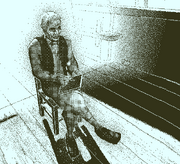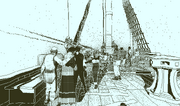 Spratt drew the sketch as he was witnessing the execution in Murder, part 2. There are a number of differences between the sketch and the real scene.
Conservation
It is unclear how the sketch ended up in the possession of Surgeon Henry Evans. It does not seem to have suffered unduly from Evans' trip to Morocco in an open boat. The sketch is currently in the possession of the East India Company's chief inspector as an insert in a book about the fate of the Obra Dinn.