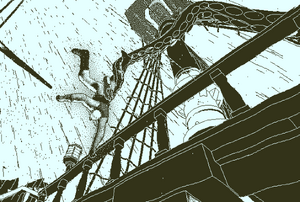 Some of the
crewmembers
in
Return of the Obra Dinn
disappear
between dioramas rather than have a dedicated death scene. This page lists disappearances by chapter.
In addition to the characters below, the body of seaman George Shirley is not seen in the game as a cannon blasts him off the ship The Doom, part 4. He is not listed as having disappeared, though.
Chapter IV, The CallingEdit
Mermaids pull both victims into the ocean where they presumably drown. Thus, their bodies are not accessible to the inspector and they have no dedicated dioramas.
Chapter VII, The DoomEdit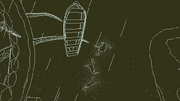 These three men take a lifeboat in
The Doom, part 1
, and
the Kraken
throws their boat in the air in
The Doom, part 7
. Their bodies cannot be accessed but the inspector can assume that they drowned during the battle.
The Kraken grabs the following crewmembers, and this is either shown directly or happens off screen, as they are seen near tentacles but not seen ever again.
Chapter IX, EscapeEdit
Four characters leave the ship on a lifeboat and end up in Africa. They are still alive in Morocco by the time the game starts. Their escape, which gives the chapter its name, is seen in Escape, part 2 and Escape, part 3.
Community content is available under
CC-BY-SA
unless otherwise noted.